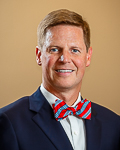 John Kea
Executive Vice President & General Counsel
BS from Union University and JD from University of Tennessee College of Law.
John has extensive experience and expertise in estate planning, the management and administration of trusts, and developing strategies to help clients achieve their financial and personal goals.
He was a partner in the law firm of Scott & Kea from 1995-2003, and then served as Vice President, Wealth Management Advisor
Trust Officer for Cavalry Banking and Pinnacle Financial Partners
From 2008-2012, John lived in Europe where he served as the team strategy leader of Belgium for the International Mission Board, and was the President of Echange Interculturel, asbl.
He began serving with the Southern Baptist Foundation in 2012.